MOREMO REPAIR SHAMPOO R 300ML
Moremo Repair Shampoo R
▶ Main ingredients
 : 17 Amino Acid Complex, Hydrolyzed Corn Protein, Hydrolyzed Soy Protein, Hydrolyzed Wheat Protein, Lavender Water,
     Cornflower Water, Lotus Extract, Rosemary Leaf Extract, Sage Extract, Chamomile Extract
 
▶ Product Description
 : When softness is needed for damaged hair! Low-Irritant Shampoo for Damaged Hair
▶ Product Features
1. Petroleum surfactant NO! Low-irritation shampoo
    Mineral oil and petroleum surfactant, hazardous ingredient, are excluded and coconut-derived surfactant is used.
2. Silicone / Paraben / Sulfate 0%
    The low-irritant shampoo with silicone-free, sulfate-free, paraben-free minimizes the damage of hair cuticle, so you can use it safely on sensitive scalp and hair.
3. Contains a large amount of nutrition for intensive care for damaged hair
    17 small vegetable amino acids that can be delivered to the hair cuticle layer and various herbal extracts provide abundant nutrition to damaged hair.
4. Hair Care Protein Complex
    Intensive Care for Damage Hair with Hydrolyzed Wheat / Soy / Corn Protein
5. Amino acid 17-complex for Hair Strengthening
    17 amino acids remodel the damaged cuticle.
6. Petroleum Surfactant FREE
    Low-irritant care for damaged hair with mild, abundant bubbles
7. Contains aroma water and organic ingredients
    Nourishes tired hair / Contains premium ingredients
▶ Product Formulation
▶ Before&After
1. Intensive Care for Damaged Hair
 : It can be used safely as a low-irritant ingredient, and you can feel the healthy softness of hair without silicone.
2. Highly-concentrated nourishing care
 
 : 17 kinds of plant amino acids & protein care for damaged cuticle!
    Protein-deficient hair turns into a soft, shiny hair with highly-concentrated nourishing care!
▶ How to use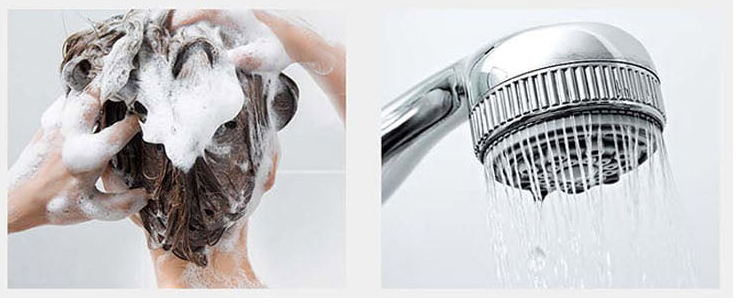 : Take the appropriate amount of shampoo, make bubble enough, shampoo smoothly as if you are massaging the hair and scalp, and rinse thoroughly with lukewarm water.
How may days does it take to receive my item?
Orders usually take around 2-5 working days to be delivered to you.
My order has not arrived within the stated delivery time, what should I do?
Our delivery options are fully tracked. If you have not received your order within the times stated for your destination and you have noticed unusual activity on your tracking number, please contact us on info@chicbysisters.com for help or you can WhatsApp chat on 0096899326161
How can I change my home address or phone number?
Changing your details could not be easier, you can change it in the accounts section on the top right of the homepage or if you're finding it a problem you can just send an email to info@chicbysisters.com for help or you can WhatsApp chat on 0096899326161
What do I do if my item is damaged?       
Here at Chic.bysisters, our team takes special care of each order to ensure your order reaches you in perfect condition. On the odd occasion that you do receive a damaged item, If it is approved, then your refund will be processed, and a credit will automatically be applied to your account or original method of payment, within a certain amount of days, excluding the delivery charges.
How quickly can I return an item?
Kindly refer to our return policy
How can I pay?
When shopping at Chic.bysisters, you can be assured of an easy-to-navigate and secure site that provides easy and secure payment solutions to cater for all your needs. Currently, we accept cash on delivery (COD) and if you wish to make payment online we also accept Visa & Mastercard or bank transfer
What are the delivery charges?
The delivery charge throughout Muscat is OMR 2.000 delivery is free on purchase over RO 49